Jenifer (to the far left) with the Tierra Grata team.
Jenifer Colpas' friends tell her that it took knowing poverty on the other side of the world, to realize the issues on her doorstep. Her story is inspirational, attesting that if we bet on what our hearts tell us and know how to read the signs, we can not only change our destiny but that of many around us for the better. Jenifer, from Cartagena, Colombia, tells us her story of how she left a position as an international business coordinator in the Chamber of Commerce to co-found Tierra Grata, helping to cover the basic water, energy, and sanitation services of those in need.
Listening to the voice and needs of Columbia's rural communities
Many people want to do something to help those in need but often are unable to know exactly what to do. Sometimes the best course of action is simply to listen…
In 2011, Jenifer was studying international business. She interned for an information technology company in India, far from her native Columbia. "That's when I realized that that business didn't positively impact the reality I saw every day outside. That marked me forever"
When she returned, she decided to study Corporate Social Responsibility instead and choose to work in the social sector in Brazil's Favelas. "There I realized that it is best to focus on people's potential, instead of their need," she explained. Although she found a good job when she returned to Columbia, she continued to volunteer and dreamed of starting her own social enterprise. 
Jenifer talking with community members
One day she met the later co-founders of Tierra Grata. "The three of us sat one day making a list of what things we could do. Working with schools, creating more park areas… we came up with a lot of ideas, but when we went to the communities and talked to them, we found that the needs that were most neglected in the rural world were always the same: water, energy, and sanitation. These areas are more difficult to bring these services to them and we said, "Let's embrace this cause! and that's where we started."
Obstacles? Yes. Results? Also!
The task of the social entrepreneur is not without obstacles. It carries the pleasant reward of generating a positive impact, but the beginnings are never easy. Based on trial and error, Tierra Grata has grown to a prominent company. A hybrid model that helped them achieve stability allowed them to have an office and grow the team. "For two years we have managed to cover the operation of the organization and we are getting closer to profitability every day."
On the other hand, it is difficult to raise funds. "At first we didn't know where to look for them. We did raffles, fundraising parties and then encountered the world of public grants. We find that especially abroad there are many resources available and now that no longer stops us. In addition, we began offering services where families pay to have their energy services. That's not where we don't get a lot of income because families can't afford much, but that aspect has also set the course for the project.".
Tierra Grata found that this option increases the quality of assistance. "The bathroom we gave at first to families is very different from the bathroom where families help pay. For instance, in two weeks, we were able to cover the toilet with walls and put flowers on it."
What you pay for takes care…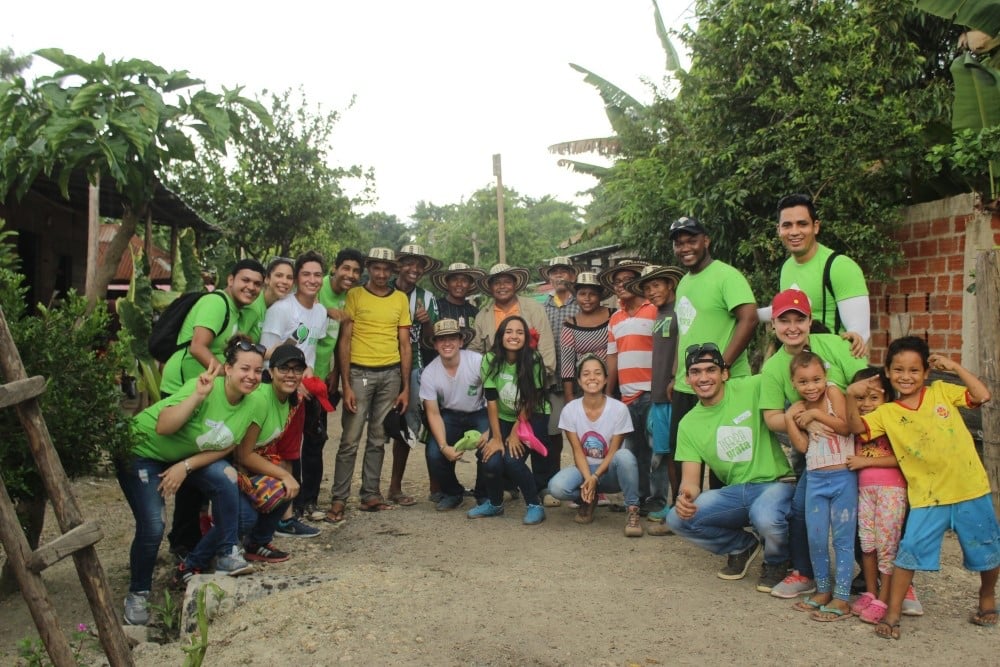 A central element of Tierra Grata's model is that volunteers come from the city and co-create with rural communities. Following installation, the community is then in charge of the maintenance, collecting monthly payments, repairing the community poles if they are damaged.
The results have been overwhelmingly positive. Tierra Grata has installed more than 300 units in 12 communities positively affecting the lives of more than 2,000 users since 2015. This is just the beginning.
Although Tierra Grata currently operates in the Caribbean region of Columbia, its vision is to spread throughout the country and become a nationally recognized company. Much work remains to be done but Tierra Grata hopes that their impact will continue to multiply.
If you are interested in our mission and want to collaborate with Tierra Grata, please contact them or follow them on their social networks, Facebook, Twitter, or Instagram.
Adapted article from Idealist.